Year 1 - The Unicorns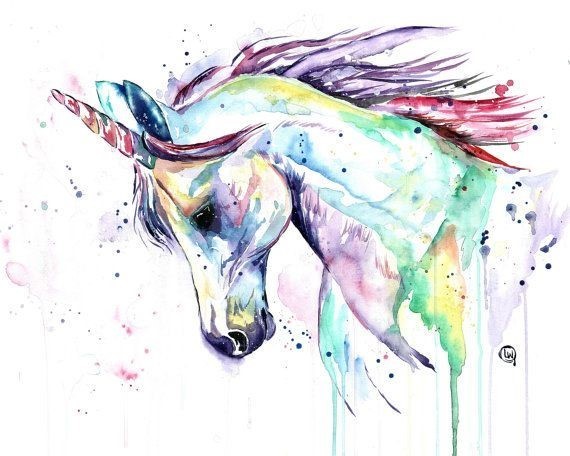 Information about our class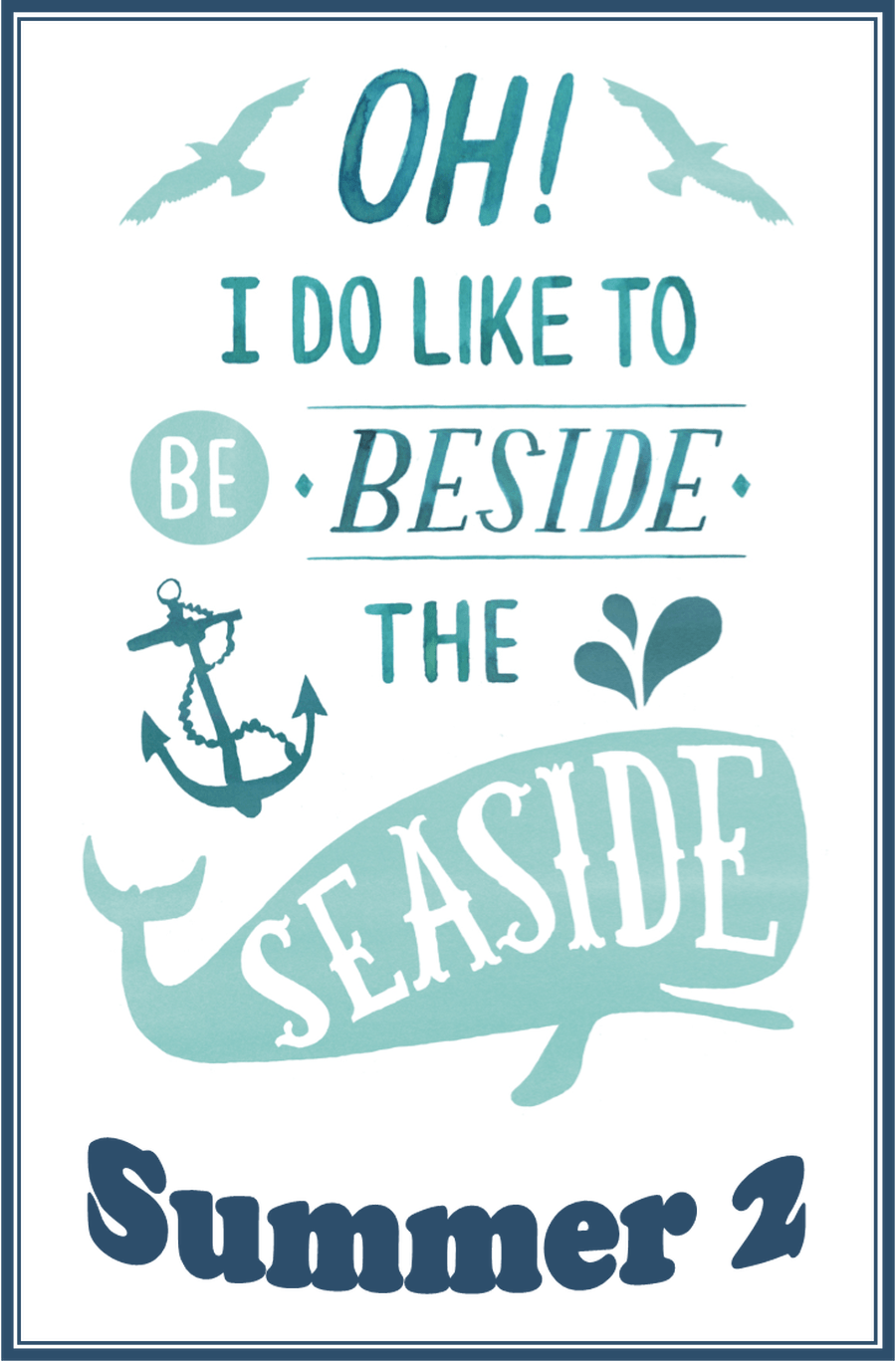 We are continuing our topic 'Oh I Do Like to be Beside the Seaside,' as we got so carried away with The Victorians! and moving onto work about Keeping Healthy and the locality.

Mrs Tingle teaches Monday, Tuesday and Wednesday morning, and Mrs Wilkinson Wednesday afternoon, Thursday and Friday. Mrs Evans supports in class each morning.

We have 5 Reading groups in class and your child's book bag is to be returned on their allocated reading day, this may change through the year if it is more appropriate for your child to be in a different group, but we will notify you of any changes. Please make sure you record the titles of all the books your child reads, as these are recorded in their Space Invaders Passport, moving the children through the planets towards the Sun. If you do not record the title we will assume your child has not read.

Homework is set on Mondays and is to be returned the following Monday, this is to support your child's learning in class and to inform you of areas in which you can support your child's learning, we will try to make it practical where possible.

PE CHANGES- PE is on Thursdays - we are working on athletics skills with Qualitas PE leaders - and Fridays, please make sure your child has a white T-shirt, black shorts, a black sweatshirt and black joggers, (a spare pair of socks is a good idea if your child wears tights to school). Please make sure all kit is clearly named. In the summer term please ensure PE kit is in school every day as we will be practising for Sports day!

Water bottles will be sent home at the end of the school day to be washed and refilled ready for the next day, hydration is really important and aids concentration and learning.

We have had a wonderful start to the year and are really enjoying teaching your enthusiastic, kind, wonderful children. If you have any questions about anything please don't hesitate to ask.

Many thanks for your support

Mrs Tingle, Mrs Wilkinson & Mrs Evans
Homework
May we take this opportunity to thank you for sending such an amazing bunch of children to our school, who it has been an absolute privilege to teach. We wish you all a happy and healthy summer. See you in September Mrs Tingle, Mrs Wilkinson & Mrs Evans x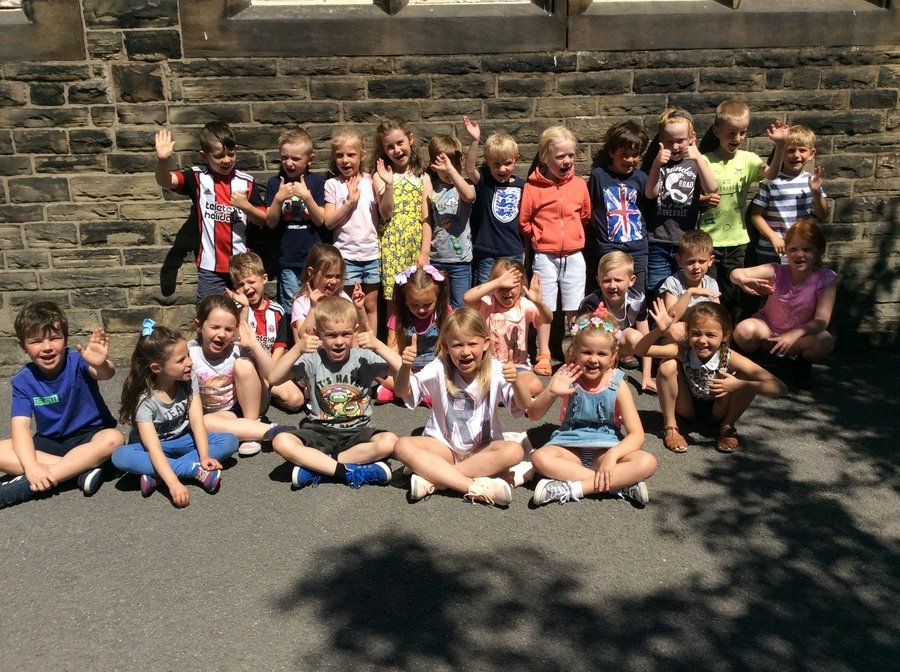 Well done Year 1 Unicorns - Non uniform day for achieving 10 whole-class merit certificates for good lunchtime behaviour and top attendance. We're SO PROUD of ALL of you - Mrs Tingle, Mrs Wilkinson and Mrs Evans.
Unicorns, Unicorns,
We are MAGIC!
Look at the fun we have learning!!
It may be the last week of school but we have still been busy learning about keeping healthy. We have been fruit tasting. The children were all amazing trying out new fruits even when they weren't all that keen . A really grown up skill well done everyone.
We also took part in our school day of sport in the carousel of activities led by the Y5s - it wasn't great fun!
Today we were lucky enough to have Mr Brimble bring in some old toys. We all had a go with the Scalextric and he told us lots of interesting facts about toys from the past. Thank you very much Mr Brimble.
We had great fun today on our Bear Hunt around the village, across the fields, under the barrier, through the woods, down the hill towards the valley and found the Bear in the churchyard. We recharged our batteries in the shade of a tree listening to our new story Owl Babies. Well done children nobody complained about the heat or their feet hurting - you did us proud!!
We would also like to congratulate the children on their amazingly positive attitude to spelling tests. When it is time on a Monday they all cheer and are very excited - it is fantastic, well done parents for promoting such positivity!
Thank you to everyone for the incredible lighthouse models you made. There was a great variety of materials used including boxes, play dough, Plasticine and even plant pots, some included the Lighthouse Keeper, sharks and whales - well done everyone!!
SPORTS DAY
Many thanks to Mr Moffatt who took these fantastic photos of our children at Sports Day. Here is a selection of his photos that feature the children from our class - some great action shots!
What an amazing day we had today!!
Despite many nerves of what lay ahead the children really rose to the challenge today. During the morning we played games from the Victorian era including hoops and beanbags, marbles and noughts and crosses. Then came the real challenge.
First we got changed into our Victorian costumes to get into role. Then we had to line up at the door to the classroom in 2 lines - boys and girls, in height order. We had to pay a penny to go to school to the teacher Miss Sharp remembering to bow and doff our cap (boys) or curtsey (girls) as we said, "Good afternoon Ma'am." Unfortunately one of us forgot our penny and one was a little late - we both remembered our lines even though we were nervous.
Then came the cleanliness check - 2 failed and had to wash their hands in a bowl with a spider! - Remember Cleanliness is next to Godliness!
During our lessons, the 3 'R's' unfortunately some of us were told off for tale-telling, being clumsy, being the 'dunce,' chatting and throwing a book across the classroom (a crime punished by the cane!) amongst other things. Then we had a playtime with Victorian toys - hoop and stick, pop guns, whip and top, skittles to name but a few. Then back inside for needlework and handwriting. We really enjoyed being Victorian children but it will be nice to get back to normal tomorrow.
Here are some photos to be going on with but more to follow.
Thanks to all the parents for supporting us with this.
We have learnt a lot about the Victorians so far including what their homes were like, who the Queen was and her family, how people travelled, what kind of toys they played with and how hospitals changed thanks to Florence Nightingale. We are looking forward to our day in a Victorian classroom next weekplease see the letter below.
The sun was shining so we sketched our beautiful Victorian school, making very careful observations of the windows, roofline and other features.
Today some of us had the opportunity to practise our sewing skills and made a Victorian sampler.
Using photographs to sort old and new objects.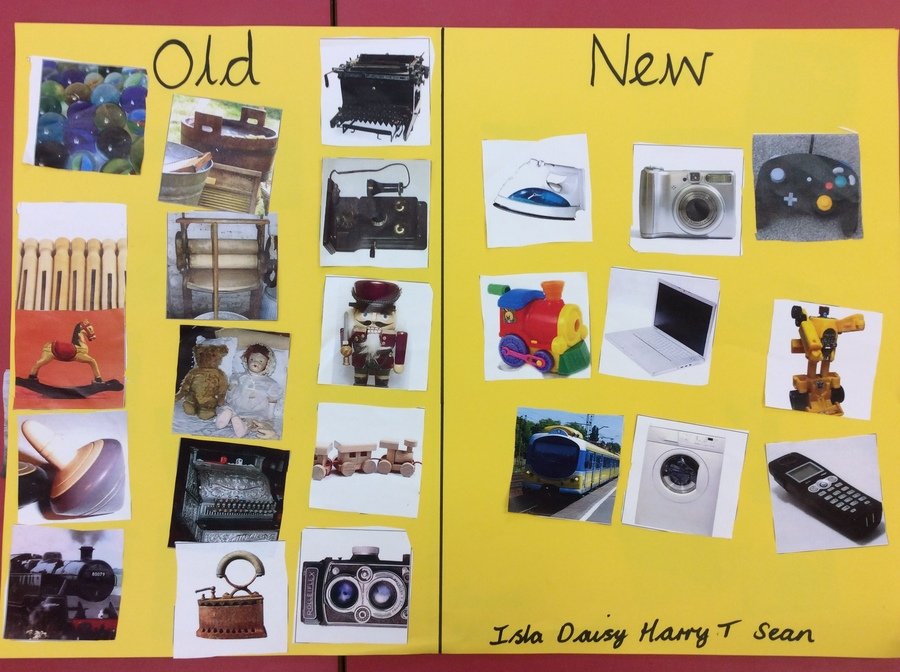 Now the weather is better we are training over on the field. Here we are working on our
javelin-throwing skills. We are trying to improve. We warmed up first with a fast, fun game based on tag rugby.
It may have been murky but we had fun in our Athletics training!
Today we were historical detectives. We looked at Victorian artefacts and tried to answer questions. What is it? What was it used for? Is it like anything we have today? What is it made from? What clues can I use to work out what it is? We really enjoyed ourselves and thought really carefully - fabulous detective work Unicorns.
Sport Relief skipping led by Year 6 - great fun!
Muddy fun with RuggerEds!
On Friday we celebrated World Book Day by coming to school dressed up as a favourite book character. We all looked amazing and had lots of fun!
The last couple of weeks have been very busy in our classroom. We have planted beans and sunflowers, investigating the conditions they need to grow. We have been learning about Vincent Van Gogh and are using powder paints to use his style of painting and produce our own - they are looking amazing so far! We have also had lots of fun learning Jack and the Beanstalk orally with actions and have written some fabulous versions of our own - with a few changes! In RE we have been looking at the Easter story to help us understand why we celebrate Easter. We also had a theatre group in for Science week. They performed a show called 'At the Bottom of the Garden' which was about plants and animals - it was very funny.
We have learnt so much about different types of animals in our topic this half term. We orally learnt an information text about Chameleons with lots of actions. We then used this to structure our own information texts about sharks. We used Publisher to make decisions about the layout of the facts and information and which photos to include. We finished this off with a front cover and we are very proud of our work - see what you think!
For the last half term we have enjoyed looking after the animals in our Vets role play area.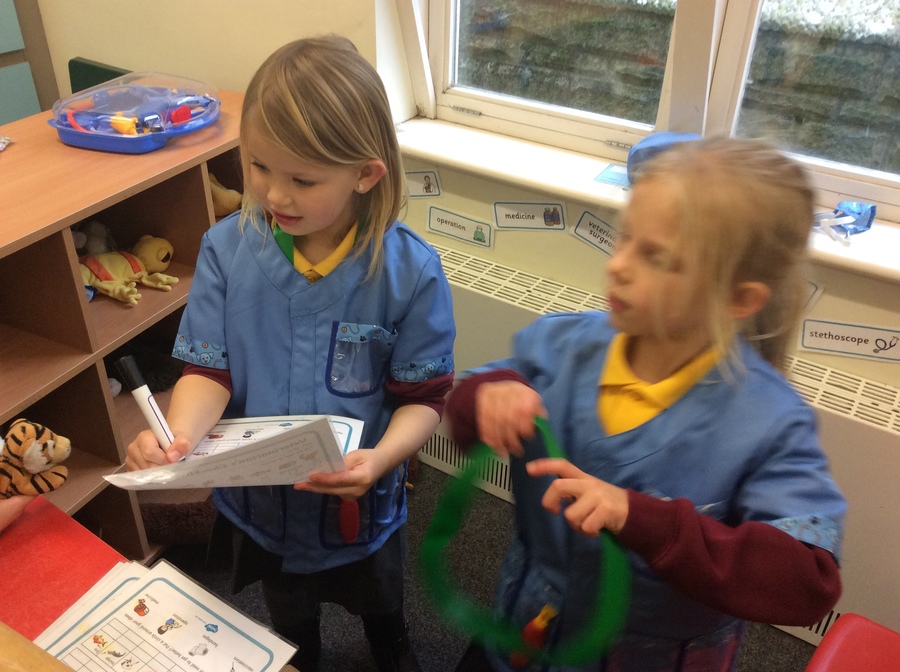 We had fun at Eckington today developing our skills and making new friends. Thanks to all the parents for helping with transport we really appreciate it..
We marbled the habitat for the chameleon and then used collage to create our chameleon's camouflage.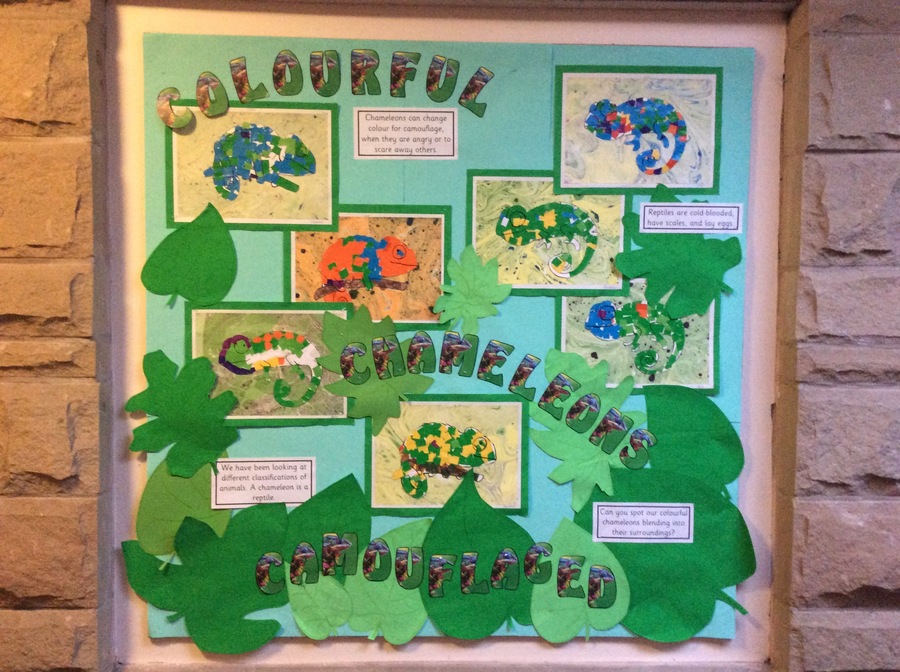 The school nurses, Lindsey and Julie, came into our class today to talk about medicine safety. We learned about when it was safe to take medicine, how medicines should be stored and also about things we should not put in our bodies, such as household chemicals. We also learned that some medines look like sweets and to ask one of our grown-ups if we are not sure something is safe for us to eat.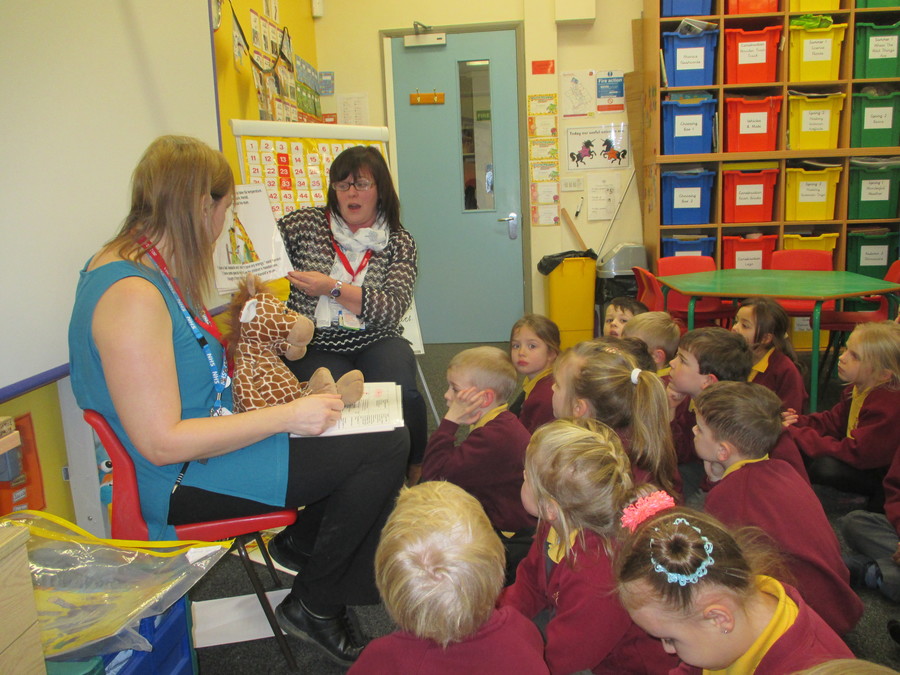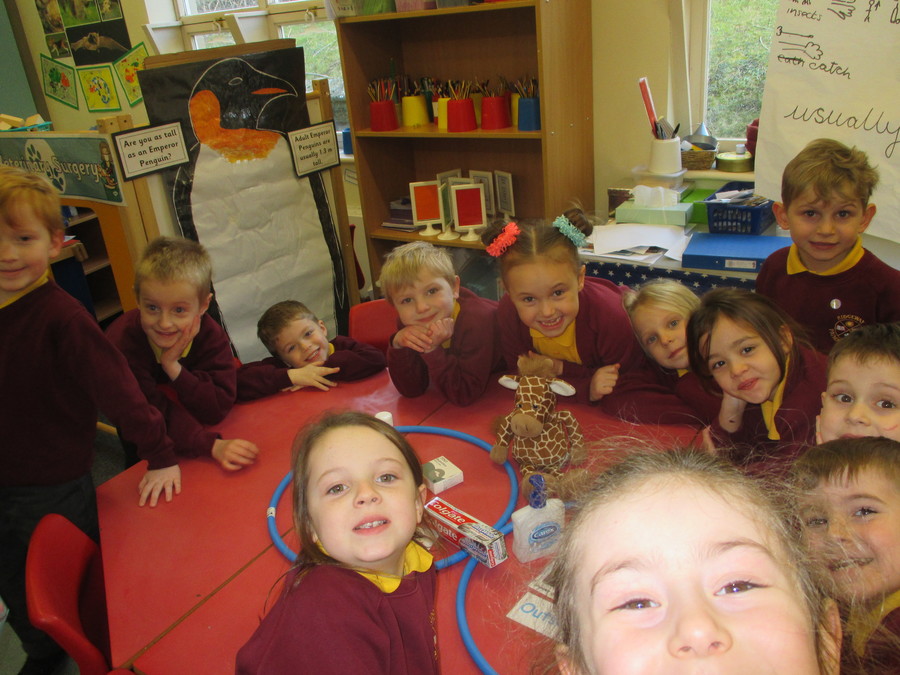 The children are quickly becoming animal experts - have they shared any of their knowledge with you?
Another exciting adventure for the Unicorns today improving their gymnastic skills at Eckington School. As ever the children were very well- behaved and listened very carefully. It was lovely to see the children mixing with children from other local schools. Thanks to all the parents who helped with transport we couldn't have done it without you.
What a joy the children were today at The Deep! Their enthusiasm and knowledge made it a day full of awe and wonder. Share the photos below and they will talk you through the many different creatures they saw including colourful fish, huge rays, sleek sharks, graceful turtles and poisonous frogs. Definitely a day to remember and some even had time for a snooze on the way home!! Thank you children for being so well behaved and enjoying it so much.
In our learning about the animals of the North and South Pole we looked at The Northern and Southern Lights. We made the pastels dance across the sky!
We finished our brilliant clay penguins - take a look at them in the school entrance along with our penguin printing, we are very proud of them.
We started working on a new story, 'Lost and Found.' We have been learning the story orally with actions, reordering pictures from the story, using the Beebots on a map of the story and drawing story maps. Its fun to work on our own, with a partner and in a larger group. Next week we will be innovating and writing our own story following the same structure.
We have been learning about the Polar regions and the animals that live there. We had huge pieces of ice to investigate with magnifying glasses. The children asked questions and watched what happened as the ice melted. It was great fun!
We have modelled some penguins out of clay and are hoping to paint them in the coming week - we couldn't do this without our super helpers - Mrs Mitchell, Charlotte and Mrs Platts.
We had great fun being Medieval knights and royalty for the day. Our personalised head wear was fantastic.
We worked with a partner to build a castle using cylinders and cuboids, the results were very impressive.
After our Autumn Walk we wrote some Autumn Shape Poems - have you seen them in the entrance to school?
Some of us have been learning Tag Rugby on Monday lunchtimes. It has been great fun!
Our visit to Conisborough Castle helped us to understand what life was like in a castle, 850 years ago.